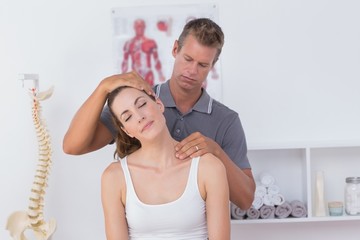 Welcome to the Life Chiropractic & Acupuncture Blog. Here you will find out about the latest in Chiropractic Care, Sports Injury, Acupuncture, and Postural Correction.
Life Chiropractic & Acupuncture serves a variety of patients, from young athletes to senior citizens, in North Bergen and the surrounding area. We are committed to providing chiropractic solutions that will address your unique needs, from back and neck pain, to headaches and even muscular tightness and tension. Our doctors are highly-experienced chiropractors who have a diverse range of experience in treating numerous health conditions in a wide variety of clinical settings.
At Life Chiropractic & Acupuncture we provide spinal correction and chiropractic adjustments, specialized treatments for sports related injuries, acupuncture as an alternative or cooperative treatment, and we will teach you how to perform special "blueprint" exercises which can help strengthen and correct body irregularities which may be causing pain. Unlike conventional medicine, chiropractic care emphasizes the importance of improving your health in an effort to reduce the risk of pain and illness in the first place. We would like to share our extensive knowledge through this informative blog and will be updating it regularly so that you can stay up-to-date on the latest news and information.
For more information, contact Life Chiropractic & Acupuncture.
|