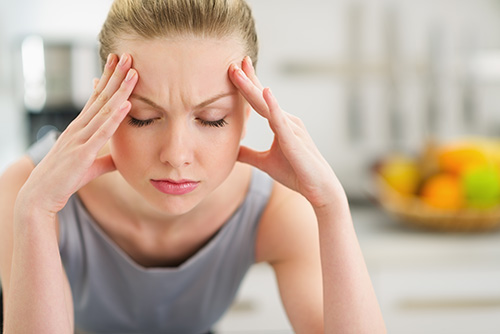 For many of us, stress manifests into various forms of headache. Were you aware of the fact that tension headaches are one of the most common types of headaches, affecting about 90% of all headache sufferers? Likely, however, you are not aware of the fact that research shows spinal manipulation, the primary form of care provided by doctors of chiropractic, is an effective treatment option for tension headaches and headaches originating in the neck.
Researchers at both Duke University as well as a study within the Journal of Manipulative and Physiological Therapeutics concluded spinal manipulation (a chiropractic adjustment) results in almost immediate improvement for headaches originating in the neck. Neck pain related headaches typically build slowly and gradually over hours or days. It is often described as a feeling of pressure in the skull or neck muscles tensing. The Journal of Manipulative and Physiological Therapeutics (JMPT) report discusses how interventions commonly used in chiropractic care have improved outcomes for the treatment of acute neck pain. Furthermore, according to JMPT's research about migraine and headaches, chiropractors were very effective at providing moderate or better relief than other treatments and drugs. This evidence suggests not only is chiropractic good for your spine but is beneficial if you suffer from headaches or migraines.
Beyond traditional chiropractic care, spinal adjustments combined with spinal decompression treatment have been incredibly successful treatment options here at Life Chiropractic and Acupuncture. Both treatments can target the precise area causing your headache, resulting in relief! Spinal decompression involves stretching your spine, allowing the spaces between your vertebrae (spine bones) to open up and necessary fluids to enter, keeping the discs (cushioning material between spine bones) healthy and relieving pressure on nerves. This decreases pain and increases functionality of your back. Learn more about our approach to chiropractic treatment for headaches. Of course, we welcome you to contact us anytime!